The last month of the decade is here and we're still grappling with our New Year's Resolutions. So we created a list of the top 10 best female characters whose journeys have inspired us to help with those resolutions.
With the decade coming to an end, here's a throwback to all the times that Bollywood gave us strong female characters who inspired us to chase over men.
1. Anushka Sharma In 'Band Baaja Baaraat'
Starting chronologically in the pre-'Made In Heaven' era, this memorable 2010 film was a quirky take on the wedding business in Delhi.
I watched it first as an impressionable 12-year-old. As a young girl standing at the threshold of puberty, the only thing that struck me back then was the enticing idea of a happy marriage and a grand wedding. But going back to the film as an adult today, what strikes me, even more, is Shruti Kakkar's determination to become an entrepreneur.
Shruti rigorously interns as an assistant wedding planner with Anu aunty all through college. Not only to seek the necessary experience and learning before starting her venture but also to save up for her own 'binnes'. She takes her work immensely seriously. She very actively resists anything that may even remotely hinder her entrepreneurship plans –boys, rishtas, nagging family, et all.
The poster child of "Chase Dreams Not Boys", we can all learn a thing or two from Shruti.
2. Katrina Kaif In 'Zindagi Na Milegi Dobara'
A life that most of us can only dream of having, Laila is an example of what can be achieved if one chooses to live without societal impediments.
A trained Scuba diver, an innate traveller and a boho-chic student from London, Laila truly shows what living life on the edge looks like. While most of us can only dream of this, it makes me think of how many women there are out there who are conditioned to chase the conventional, 'normal', 'safe' path.
Which is what makes this character a lot more aspirational than realistic. But Laila is an ode to all those unfulfilled dreams. Laila is the poem that young girls everywhere pen out in their 'dear diaries'. And this diary is never opened once the threshold of adulthood is crossed.
On the other end of this spectrum would be someone like Kalki. This film brilliantly presents both the sides of this coin that conditioning is.
This film certainly made me want to go back to that diary I had locked away as an adolescent. And maybe plan that exotic vacation to Corsica after all because my adult diary needs unfulfilled entries too.
3. Sridevi In 'English Vinglish'
One of the most inspiring stories for every woman out there who is battling with feelings of irrelevance and insecurities – Shashi from English Vinglish is as real as they come.
In a world that is so quickly changing every day and a whole new generation has taken to this change so swiftly that the transition never made itself felt – this film is for all those who felt left behind in this whirlpool of change.
Shashi is a testament to a whole generation of women who were so caught up with nurturing their families that they missed an entire era while playing the caretaker. One of my favourite scenes from the film is when after being berated by her family for the incorrect pronunciation of 'Jazz' Shashi repeats the correct one over and over again bent over her beloved laddoos until she gets it right.
This determination to get something as simple as a pronunciation right encapsulates everything that the film stands for – an undertone that screams persistence and is proof to the fact that it is never too late to reinvent oneself.
Shashi's character may operate on a level of immense under-confidence, but her resilient spirit is what cannot be dampened –because she chooses it not to grow into one.
4. Kangana Ranaut In 'Tanu Weds Manu Returns '
Strong. Audacious. Limitless. And proud of being able to make it big in the big city from an oppressive village –Datto is the definition of unapologetic confidence.
Datto is not only fierce in her approach but is also well in touch with her responsibilities. She is fully aware of both her shortcomings and her capabilities. She is completely in touch with reality and is well aware of her marginalised position in the hierarchy of Delhi society, which is why she is more than willing to work hard towards maintaining where she's managed to reach.
Even in her showdown with the ex-wife of the man she loves, she understands the precariousness of the situation that she is in and knows that the only critique her opponent can have of her would be about her appearance — something that she is considerable open and unabashed about.
Datto emulates the kind of confidence all women would have been able to exuberate if they weren't conditioned into questioning their self-image at every given step of the way.
While we're on the topic of Kangana and her series of brilliant performances, Queen is a film that any list of powerful female representations would be incomplete without. A film that helped normalise 'finding yourself' for a whole generation of women, Rani's journey in Queen begins at the point where most Indian women's personal journeys are meant to end: marriage, the ultimate destination.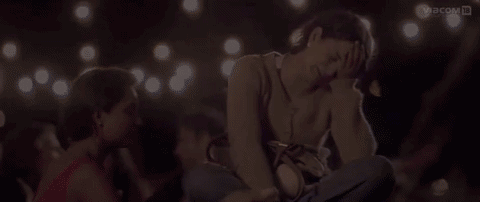 Rani's character growth is that aspirational story in an alternate universe where women are allowed to have goals beyond marriage and child-rearing. The goals of independence, truly being in touch with your own self, and of course, being able to find things that you are passionate about.
So apart from giving us major solo wanderlust goals, Rani is simply that story that can be.
5. Deepika Padukone In 'Yeh Jawaani Hai Deewaani'
Teenage heartbreak. We've all thrived through it. We've all silently cried ourselves to sleep and faced that unattainable crush in school the next morning. But Naina from Yeh Jawaani Hai Deewani twists that helpless narrative on its head and shows how empowering getting over your lost love can be.
The relatable socially shy under-confident nerd in school, Naina's inhibitions to venture into something out of the ordinary mirrors ours'. Brought up as an academic over-achiever and raised by an overly demanding mother, ideas like pursuing happiness beyond traditional success was utterly alien to her.
But Naina is right at the mid-point of this spectrum. She takes that audacious vacation against her parents' wishes, finds gratification for everything that her heart was craving and comes back to her 'normal' life to finally get that doctor's degree.
Naina shows us that love, adventure and personal fulfilment is most certainly important in life –but ultimately what stays with you is what you have created for yourself.
When we meet a grown-up Naina, eight years later, she's a successful doctor. She's happy with the life that she's created for herself and is proud of her ambitions. And of course, is a lot more confident at that. "Tum pehle se hi itni khubsoorat thi ya waqt ne kiya koi haseen sitam" This haseen sitam was nothing but the pride of achieving everything that you set out to. So Bunny or no Bunny, Naina will forever be goals!
Speaking of Deepika Padukone, her portrayal in Piku too was nothing short of goals in every way possible. Click here to read more about Piku and why she'll always be an inspiration to women everywhere.
6. Bhoomi Pednekar In 'Dum Laga Ke Haisha'
Set in the '90s, this film feels like that old love song that got you through your school heartbreak. Just like that love song that you haven't heard in a while and when you do revisit it, it opens up a whole pandora's box of memories you forgot you had stuffed away.
But the '90s were also the place where ambitions women had to fight harder for the right to be themselves — especially women who were constantly criticised for their appearances being nowhere close to the accepted beauty standards.
But none of this matters because Sandhya will not let it. Strong. Confident. Educated. Ambitious. She is aware of her shortcomings but is also aware that they're superficial. She knows what matters is her ambition. She strives hard to make it as a teacher and is confident of the fact that she will not let anything come in the way of her chosen career path – love, marriage, or family, not even her husband.
Sandhya is an ode to the numerous battles that a woman has to win in order to create a career path for herself.
Her societal conditioning does teach her that love and marriage are essential. We see this in the effort she makes to sustain her marriage with her husband, who clearly detests her. But what will forever be admirable is the way in which she never lets her self-respect be questioned.
The moment anything remotely comes close to what she knows has the potential of threatening her self-respect, she puts her foot down and steps back. This courage is what most women are basically conditioned not to have. In a country where 42% of men think that the woman must endure abuse and violence to make a marriage work, Sandhya remains to be that example that women seriously need to emulate.
7. Alia Bhatt In 'Dear Zindagi'
This film, at its very core, is something that every urban working independent woman will relate to. A millennial who's trying to make it big in her career is juggling relationships and a family that feels supposedly close enough to place value judgments on her life choices – now who can't relate to that.
A career-driven woman, Kaira knows what she wants from her professional life and is not afraid to put herself out there to go and get it – unlike her personal one. Constantly battling her inner demons, Kaira is all of us in confused relationships where the ever-looming "what are we" question seems to haunt us into sleepless nights.
But amidst all of this emotional turmoil, Kaira just like Naina knows what is truly important. Kaira's journey and the road to self-love are what we can only dream of achieving. But her ambition and the seriousness with which she treats her career path without letting that be a part of her emotional hindrance is what millennial women everywhere should certainly learn to practice.
As women, we're constantly taught to value our relationships –with partners, with family, with parents; a lot more than our careers.
But Kaira is what happens when we treat our relationships as something that is simply meant to be a stopover in our journeys. What truly matters in the end, is what we have created for ourselves –our ambition and our career paths.
Because your career will never wake up, one fine day, and decide that it doesn't love you anymore.
8. Swara Bhaskar In 'Nil Battey Sannata'
Logic says that dreaming about things that are within the realm of possibility is a good strategy – it doesn't set you up for disappointment. Making realistic goals and gradually working your way through them is a sure-shot way to success. But Chanda is the character who takes realism and twists it into seemingly realistic aspirations instead.
They say aim for the moon; you'll reach the stars. Chanda is what happens when you aim for the moon, believing that there are no stars around to land at as safety nets.
Belonging to the economically challenged section of the society, she is well aware of her financial shortcomings – but is dead sure of the fact that this drawback cannot determine her child's future. She takes up multiple jobs to put her daughter through school, wishing that her obstinate daughter would not have to live the life of hardships that she did.
The stubborn mother of an equally stubborn daughter is willing to go to any length to ensure that her kid doesn't waste her life away – even if that means signing up for math lectures along with her.
On the surface, a woman who works as a house help dreaming of making her daughter an IAS officer seems like a story that hasn't particularly been well thought out. But Chanda is a character that operates solely on hopes and dreams.
She shows that if you're ambitious about something and are willing to exhaust yourself in its pursuit, then nothing can truly come in your way.
9. Priyanka Chopra Jonas In 'Dil Dhadakne Do'
Aisha Mehra belongs to the privileged background of the top 1% that economically run the country. On the surface of it, and according to her mother, Aisha has everything that one needs to be happy in life. A well-to-do husband, a comfortable family and of course, no shortage of money. But what her mother and the society forget to factor in is the significance of ambition in living a fulfilled life.
Everyone around her thinks becoming a mother will complete Aisha's life. And while she is not against becoming one, she knows that that cannot be all that her life is all about.
Despite belonging to the most privileged of the backgrounds, the fact that she had to pawn off her jewellery and her belongings to fund for her business is perhaps the most dramatic testimony to the familial expectations that society imposes on women.
She goes on to become a hugely successful entrepreneur, so much so that she's mentioned right next to her father in the Forbes' list of top women entrepreneurs. Aisha's resilience and her silent courage is the inspiration that most women need to fuel their ambitions.
And while we're on the topic of PeeCee, her performance in Mary Kom is yet another milestone that cannot be ignored in this list. Based on a true personal story, this film is a heartfelt love letter to the arduous journey of thriving at both motherhood and work and the resilience of women that passes by us unnoticed.
10. Vidya Balan In 'The Dirty Picture'
Ambition can be of many kinds. But trust this male-dominated society to thrust unsurpassed impositions on every kind of ambition. Based on the true story of Silk Smitha, a South Indian actress, her journey stands to show one of the many reasons why Bollywood was caught up in the relatively unsuccessful storm of the #MeToo Movement.
This film is set in a time when the road to success for women was paved with men lusting after every woman who dreamt of making it big in the entertainment world. But this film is the representation of what happens when women use this gender gap to their benefit.
Vidya Balan's brilliant portrayal of Silk Smitha shows women everywhere the strength that can be extracted out of marginalisation. Silk Smitha very tactfully manages to twist the problematic hierarchy that her gender is imposed to into making that a position of power.
She uses the very tools that deem the woman as the weaker gender and converts them into positions of power –her sexuality and her womanhood.
This decade also saw many worth-mentioning performances by Vidya Balan –without which this list would perhaps be incomplete. Her portrayal of Tara in Mission Mangal, as well as Sulu in Tumhari Sulu, may be on the opposite end of the explicit spectrum where Silk Smitha stands but is right there with it on the power scale.
Tara and Sulu are both testaments to the power that humility can exuberate. While being humble is not ordinarily associated with ambition, Vidya Balan's performances show that empowering yourself can take any form you desire.
So this was Kool Kanya's throwback to the past decade. Let us know your favourite characters in the comments below!
---