It was 2018. My girl gang and I were excitedly waiting to go watch 'Veere Di Wedding' in the theatres. We used to play Tareefan on loop. And obviously failed miserably at planning exotic vacations, and could only dream of dressing up like that.
What Bollywood Gets Wrong
Even as we were oohing and aahing over their seemingly perfect lives, we were all fairly aware that this ecstasy will be over the moment we step outside the theatre. None of those plans, vacations, clothes or lives would ever actually pan out. We oohed and aahed but not once did we ever relate to any of their lavish shenanigans.
On the contrary, I remembered our reaction when we were in the theatres watching 'Pink'.
In a scene at the beginning of the film, the three friends are shown returning from a get-together in a cab with a drunk driver. This incites a rather strong and aggressive reprimand from Minal (Taapsee Pannu). Being the explicitly fearless one of the three, she castigates him and shifts to the passenger seat to keep a closer eye on him and his lewd behaviour.
Right at that moment, my friend shifted in her seat and whispered to me "that's so you".
In another relatable scene in 'Tanu Weds Manu', Payal (Swara Bhaskar) severely chides her best friend Tanu (Kangana Ranaut) for not taking her life seriously.
How many of us have been there, done that?
And conversely, how many of our female friendships have really blossomed on a wasted night out (Cocktail) or while we fought over the attention of an attractive man (Kuch Kuch Hota Hai)?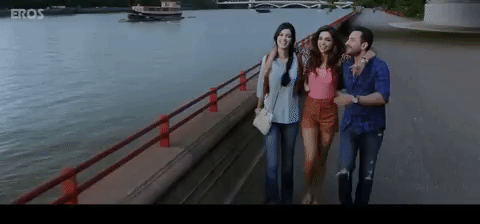 Your answer is probably "hell yeah!" and "uh not really…?"
Why Don't We Get A Veeru Or A Tera Yaar Hoon Main Ballad?
Can you think of a yeh dosti hum nahi todenge being filmed on a couple of female besties? Nah, me neither.
It's no new information that female characters have, for the longest time, been only incidental to primary narratives in mainstream movies and shows. Their role has often been to enhance the male protagonist's character arc and development.
And so, one hardly witnesses any real relationships and connections between female characters.
Exhibit A: The boys in 'Zindagi Na Milegi Dobara' lived the road trip of their dreams, spoke about life, career, challenges and struggles. But the women on vacation in 'Veere Di Wedding' or '4 More Shots Please' couldn't stop talking about the men in their lives or their relationship issues.
Add to that, the careers of all the male characters in ZNMD were up front and centre. Arjun (Hrithik Roshan) is all about his job as a stock exchange trader, Kabir (Abhay Deol) is passively involved in his family's construction business and we know that even the seemingly aimless Imran (Farhan Akhtar) is a copywriter for some advertising firm.
Now, think of Kalindi's (Kareena Kapoor Khan) character in 'Veere Di Wedding'. We know she's based in Australia and there are some passing mentions about her career but do we know what she really does? Sakshi (Swara Bhaskar) and Meera (a brilliant Shikha Talsania) too are very evidently given nothing to do outside of their personal lives.
Exhibit B: Or take the outlandish 'Student Of The Year' series. Both the films in the series had a fairly similar story thread. While the first film began on a strong note of friendship between the two male protagonists and ended with a revival of the friendship, the second instalment of the series had the two female protagonists loathing the living life out of each other.
How difficult is it to imagine three women being friends and struggling with life as they manoeuver through a difficult education system? ('3 Idiots') Or three girl friends hitting the road for a trip after college and then growing distant as they grow up, only to eventually find their way back to each other? ('Dil Chahta Hai')
Many "Best Female Friendships In Bollywood" listicles online have Aditi and Naina (Kalki Koechlin and Deepika Padukone respectively) from 'Yeh Jawaani Hai Deewani' as a strong positive contender for this race. However, the film has a total of one scene dedicated to establishing their relationship, while the friendship of their counterparts Bunny and Avi (Ranbir Kapoor and Aditya Roy Kapoor respectively) gets ample screen time.
So Where Does The Problem Lie?
In a nutshell, the male gaze.
Click here to read all about how the male gaze dominates pop culture.
Most films, in order to cater to a consumer driven entertainment market, build narratives to titillate, satisfy and confirm to the male gaze.
Hence, the women are more figures of fantasy, both pleasurable and revolting, but rarely real. You don't see women in traditional media, you see them through the lens of the protagonist, the cinematographer, the director and the audience, all overwhelmingly male.
This overshadowing of the female voice has created a void of real female representation, which in turn allows many sexist and misogynistic beliefs to be perpetuated through the storytelling.
For example, the idea that women are women's worst enemies. Or the portrayal of women's get-togethers that have them playing dress up, pillow-fighting and talking boys. A world that views women primarily in their roles as wives, sisters, mothers or girlfriends, both on screen and off, and values their loyalty to the men in their lives over their loyalty to one another, obviously finds it hard to tell stories of real friendships between women.
What Bollywood Gets Right
But there's always a glimmer of hope, the silver lining in every dark cloud. Films like 'Queen', 'Angry Indian Goddesses', 'Pink' and 'Parched' are some brilliant exceptions to this rule.
What was most refreshing about the manner in which these films depicted female friendship was how close to reality it was. Just like most of our real lives, their relationship troubles or the men in their lives didn't take up a major part of their interactions.
They certainly had work they needed to get done.
Rani (Kangana Ranaut) was busy figuring out what life looks like without a man in it. Vijaylakshmi (Lisa Hayden) was busy raising her son all by herself and trying to live life on her own terms. And Minal, Falak, and Andrea (Taapsee Pannu, Kirti Kulhari, and Andrea Tariang) were too busy fighting for justice.
That struggle is realistic and relatable, as is the bond of friendship that arises between women who have gone through something together.
The girls in 'Veere Di Wedding' might be better dressed and might seem like they're having a lot more fun together, but in life, I have many more Vijaylakshmis by my side, the kind that never get enough representation in cinema.
They are the ones I will celebrate Friendship Day with, and swing to tareefan on a zoom call with.
---