The Kool Kanya community recently hosted a writing contest, for which members were asked write on the topic 'Losing a Job is Not the End of Your Career'. The responses were overwhelmingly encouraging, and the wisdom and honesty in them truly inspiring. Here are the top 5 write-ups that we absolutely loved, and believe are sure to benefit and inspire others as well.
Bhavya P
Life 101: How to learn that losing a job isn't the end of the World, let alone your career
I know how annoying it can be to hear that every cloud has a silver lining and the truth is that being on the 'unemployed' end of the spectrum isn't anyone's favourite – but maybe, you could consider this to try out the things you wanted to, but haven't yet. Aptly as this freelance journalist who lost their job says:
If you've been fired or laid off, try this mental exercise: Ask yourself how you'd approach the situation if you'd quit intentionally.
Many endure jobs that don't inspire them and most of us spend our lives wondering what would've happened if we aimed higher.
So if you've been laid off, it's probably time to amp up that LinkedIn bio, get onto that driving seat, rev up the webinar engine and steer your career into the best of avenues — all of which you deserve!
Prajaakta Vithalani
Since always we have been considering "job" as the parameter for measuring the success of our careers. Having said that, any person who loses a job will end up feeling lost and devastated. However, here are three reasons why losing your job should not mean the end of your career:
Survival of the fittest: You have realized that in order to survive cut-throat competition and emerge as a first choice, you need to make certain improvements. This is an opportunity to compare your skill set and qualification with the market benchmarks and get set to improve in such a manner that you never have to face such filtration again.
Blessing in disguise: This job was the best you could ask for! From getting your loan EMIs paid to fairly cool allowances, everything seemed in place.
But wait, when was the last time you reflected upon what are the better opportunities available in the market ? May be quite long ago.. this is a forced opportunity to step out of your comfort zone and find the right job profile.
Fresh Perspective: Have you thought of taking up freelancing? Becoming an entrepreneur? Pursuing higher studies? & conveniently skipped that thought after much deliberations? Well, this is the time! Re-consider all your interests and skills and match them to your dreams.
And last but not the least, it takes you back to the basics – career is not just the job, it's you! Losing a job is a revision of the basics like the importance of savings, support from family and friends, networking. So, stay motivated, seek help and find your path. Always remember, "Success is not final, Failure is not fatal. So, "Fall seven times, stand up eight!"

Sania Merchant
I cannot emphasize this enough:
Losing a job is a sign that you have better jobs in store for you! It may be tempting to criticize oneself, but simply use this as an opportunity to skill up, have some peaceful me-time and look for better jobs out there!
For every door that closes, one will open up and if it doesn't open up time to smash the window and build the opportunity yourself.
Think of the quote, "Cry a river, build a bridge, And get over it." It's okay to feel down but remember to learn to move over time!
Divija Guptaa
My qualification(s) and employment choices define only the lifestyle that I wish to have, the desires and wants that I need to fulfill and my buying power.
They don't define my independence, dreams and also core values.
The end of my job isn't the end of my career because I can always rise up from ground and build myself from scratch as long as I have my qualifications defined. Whether I am educated or not, I can always ensure that I have food to eat, a roof to cover my head and flooring to sleep because these are the only needs.
Kshama Mishra
"Rejection is Redirection"
Isn't it magical how a little shift of paradigm changes the circumstance altogether? I believe losing your job is just like falling on the floor, you know you can't go further down but no one is stopping you from getting up either. And once you get up, you can climb stairs too or mountains, if you want. And even if you had lost your dream job, always remember it's never too late to have a new dream.
Losing A job compels you to reflect through the sound in your head, which you kept ignored while at work. you never know, maybe your head has some melodies for you.
And remember that the only thing that is between your next work/job and you is your mindset.
Kudos to these incredible women for their uplifting and positive approach to life's challenges, and congratulations on winning the contest! Keep inspiring us, and raising your power!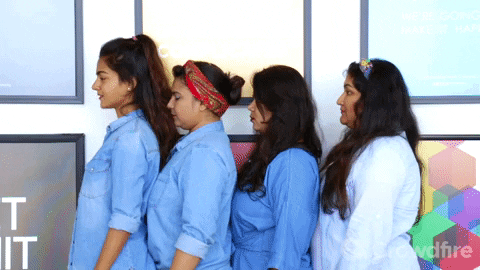 You're invited! Join the Kool Kanya women-only career Community where you can network, ask questions, share your opinions, collaborate on projects, and discover new opportunities. Join now.
---