The first rule of online communities for women is: You talk about them! Then, you join them, explore them, and eventually, you thrive on and through them. Here's everything you need to know about online female communities in India
There is something incredibly striking about the power that women are capable of creating (and passing on), when they stand by, with and for each other. A power that creates a ripple of empowerment so liberating, they can rise and emancipate themselves from oppression.
That is the premise and potency of female communities.
In a male-oriented world, sisterhood is an underestimated currency. And that is why we have put together this in-depth guide about why you need to join a women only online community, and how you can thrive once you do.
This is a slightly long article with detailed descriptions about navigating an online community for women, so you might want to refer to the table of contents while reading it to jump to your preferred sesctions:
Table of Contents
Why Should You Join An Online Female Community?
Women Supporting Women: 5 Online Communities For Women In India
How To Grow Your Career Through An Online Female Community
Which is what we at Kool Kanya strive to create. We believe what one woman can do alone; a community of women can do better, together. 
Why Should You Join An Online Female Community?
1. To Find A Safe Space
Did you know that women are disproportionately targeted more in online bullying? This usually leads to them censoring online behaviour, and occupying less space on most social media platforms. 
Online women only communities tackle this by providing a safe haven for women. Online female communities have come into the picture for a while now and naturally are becoming a favourite for many.
These online community spaces for women make it easier for women to be candid, original, and authentic because they have the assurance of being surrounded by like-minded people.
They can participate in conversations initiated by women in similar walks of life, where there is the promise of an open and encouraged expression of vulnerability.
2. To Build Your Personal and Professional Network
Regular online spaces often overlook women's needs, especially ones which require a certain level of empathy to be engaged with. Talking about menstruation, mental health, harassment, maternity, and so on is a lot easier with other women in women-only communities who understand where you are coming from.
In a world where women are interrupted, spoken over, and rarely encouraged to voice their concerns, online female communities provide something special — a chance to be listened to.
An online community for women can offer the kind of support, motivation and guidance that is best when it comes from someone who has already walked down the path others are struggling to walk on.
3. To Share Their Professional Journeys
When it comes to conversations that have everything to do with professional accomplishments, women often stay mum or hide behind insidious imposter syndrome.
Being a part of an online women's community allows women to seek and share professional advice, help each other through difficult phases, and raise one another higher. Here, sharing wins and losses is easier and less anxiety-inducing.
Women only communities also provide a platform to seek and share professional opportunities, and advance women's careers collectively.
4. To Find Inspiration
Women keen on breaking archaic patterns and shattering glass ceilings will find that hearing the stories of others who have unlearned oppressive models of behaviour can provide much-needed motivation. It is these women that you will interact with an online community for women.
There can be countless reasons that hold us back from shooting our shot. But all we need is one ray of inspiration. Just one story where someone has managed to rebel against established norms and emerged victorious.
In being inspired and looking up to someone we deem aspirational, we forget that we can reach that destination too. To reach the point where we, in turn, can help inspire others. An online community for women and online communities for female entrepreneurs fit the bill in this regard. 
So, If you're a desi girl looking for this sort of space, here are five women-only online communities you need to check out.
Click here to read all about why it is important for women to share their stories.
Women Supporting Women: 5 Online Communities For Women In India
If you aren't already convinced that an online community empowers women, here are 4 amazing women-only online communities that can help you build an amazing sisterhood!
Catalyst For Women Entrepreneurship
With opportunities for financing, access to trade networks, and much more, CWE is a comprehensive paid online community for female and women entrepreneurs. Founded in order to raise awareness about the socio-cultural set-up that prevents women from realising their potential, they believe in transforming aspirations into ventures.
They also undertake research to understand what limitations women face when they set out to achieve their professional goals, and develop actionable plans and resources to combat the obstacles. If you're a woman who is ready to get her entrepreneurial career off the ground, then CWE is for you!
Kool Kanya
The Kool Kanya Community is an online community for women that focuses on creating a safe space where women can discuss their professional lives, and build careers they love. How? By nurturing one another and providing the kind of support and empathy which could give your work the right boost. 
This platform has been built for the express purpose of assisting you in transforming your career into what you envision it to be. On the online women's Community, you can ask and answer career questions, grow your network, read blogs, watch videos, attend events, enrol yourself for career-building programs, and more!
Kool Kanya also has ambassadors in the form of Power Users — active Community members who go above and beyond to provide advice and encouragement to the women who have joined the Community.
We encourage our members to wield the power of vulnerability, and give them the opportunity to actively guide and be guided by other women in their professional lives. Whether you're about to start working, are returning to work about a sabbatical, and creating your own business, Kool Kanya is for every woman. When you join the Community, you are joining the workforce of the future!
Women About Community
Let's lay down the facts: life is complex.
On a given day, you might be on the hunt for a gynaec in the morning, brainstorming a project for work in the afternoon, and looking to meet new people in the evening.
If you or any woman you know needs a place to create a little niche in the company of other women, while sharing big life events and receiving non-judgemental advice, then WAC is just the right community to be in in India.
 A space as open as the idea of community for women itself, which provides security and exclusivity to women, WAC could become a group of girlfriends you've always wanted!
Malini's Girl Tribe
Ever wondered what life would be like for women if they never had to filter their hopes, beliefs, ideas, opinions, and stories?
Malini's Girl Tribe is the answer to this question! Here, women from all walks of life express themselves without fear, and give each other the open space they need to learn and grow.
Whether it's your in-laws, toxic boss, romantic partner, BFF, political positions, or literally anything else under the sun; the Girl Tribe is where you can go and chat about it. This is definitely a community for women that you should be a part of!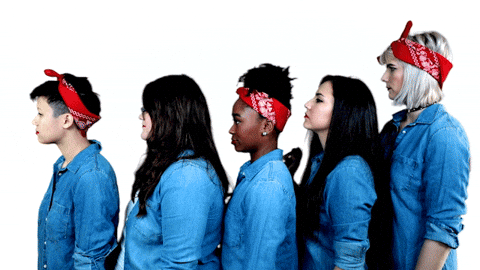 How To Grow Your Career Through An Online Female Community
Here are the things you need to keep in mind when navigating an online women only community and extract the most benefit from them! But first, know that an online community empowers women – attempts to do it in the best possible way.
Don't Hesitate To Express Yourself
Engaging with people in an online community for women requires authenticity, not a way with words.
Don't hesitate to express yourself and interact with others — it could end up with you forming rewarding bonds, building your network across professions, getting inspired, or discovering useful information you wouldn't have had access to if not for the amazing community of women that you've become a part of.
Express yourself through videos, audio recordings, illustrations, designs, poetry, song, dance, or any other form! Get creative with how you say what you have to say. What matters is that you say it.
Go Beyond Just Promoting Yourself
Online communities, especially female online communities are a great platform to promote yourself and your work. However, value is added, both to the community and its members, when the members initiate meaningful conversations that are not limited to self-promotion.
Share your career stories, ideas and hopes, your knowledge in your area of expertise, and anything you want to put out into the world. Ask questions. Listen to what others have to say and respond to them in the way you would like others to respond to the things you share.
Lean Into Your Niche, But Not Too Much
Online women's communities are a great space for you to seek objective feedback on your work, and validation or critique on your ideas. So you can definitely strive to create a space of engagement, inspiration, and knowledge within your niche in the community. 
However, this does not mean that you close yourself to discussions and events happening in the community that are outside of your area of expertise or field of work. Be open to expanding your worldview and breadth of knowledge through the platform.
Make Use Of The Resources The Community Provides
Most communities including women only communities have a wide and varied array of resources that are constantly being made available to their members.
Attend Events: Online female communities may host a range of virtual workshops with experts, Zoom calls on relevant topics with community members, contests with exciting rewards, comprehensive programs to navigate through different professions, and much more.
Subscribe To Newsletters: Every community for women has a newsletter that showcases conversation highlights, relevant events, opportunities, resources, and content. Rather than treating it as spam, treat it as a way to keep abreast of what's going on on the online community.
Become A Power User: A lot of communities for women also acknowledge and reward their most active users. Some also share the best content they see on the platform on their website or social media. This can be incredible exposure for you, and an easy and cost-effective way to build your network.
Personalise What You Put Out
Your persona in the online female community is the same as it would be on Facebook or Instagram. It is a snapshot of you and your personality. 
Humanise your profile with a profile picture and personal description. The more you personalise your profile and activity in the community, the more others in the community will trust, remember, and engage with you.
Most communities especially communities for women keep an eye out on the content their members are sharing and the needs they're expressing, and customise what the community offers accordingly. The more you personalise what you put out on the community then, the more your needs will be met and the more relevant the community will become for you.
So there you have it: the what, why and how you've been seeking about online female communities. You're ready to navigate and make the most out of any online community for women you join.
We're sure with the validation, support, and confidence you receive on any online women only community after following these rules of thumb, you'll discover the sisterhood of your dreams and the perfect community for women!
---